Types of retail store formats
Ecommerce
The elephant in the room for any retail store discussion is selling direct to consumers via ecommerce marketplaces such as Amazon, Ebay, Alibaba, Flipkart etc. Hence, it is better if we talk about it first and than go over other retail categories.
Most brick and mortar retailers described above have whole heartedly adopted ecommerce selling, with Walmart.com, Bestbuy.com, barnesandnoble.com and increasingly bedbathandbeyond.com increasing their online presence and share of revenues through selling directly from their website as opposed to through their brick and mortar stores.
On the flip side, ecommerce pioneer such as Amazon Inc has also seen value in having a brick and mortar presence, and they have acquired specilaty grocery chain Whole Foods in 2017 to create their physical retail presence by having over 400 stores across USA.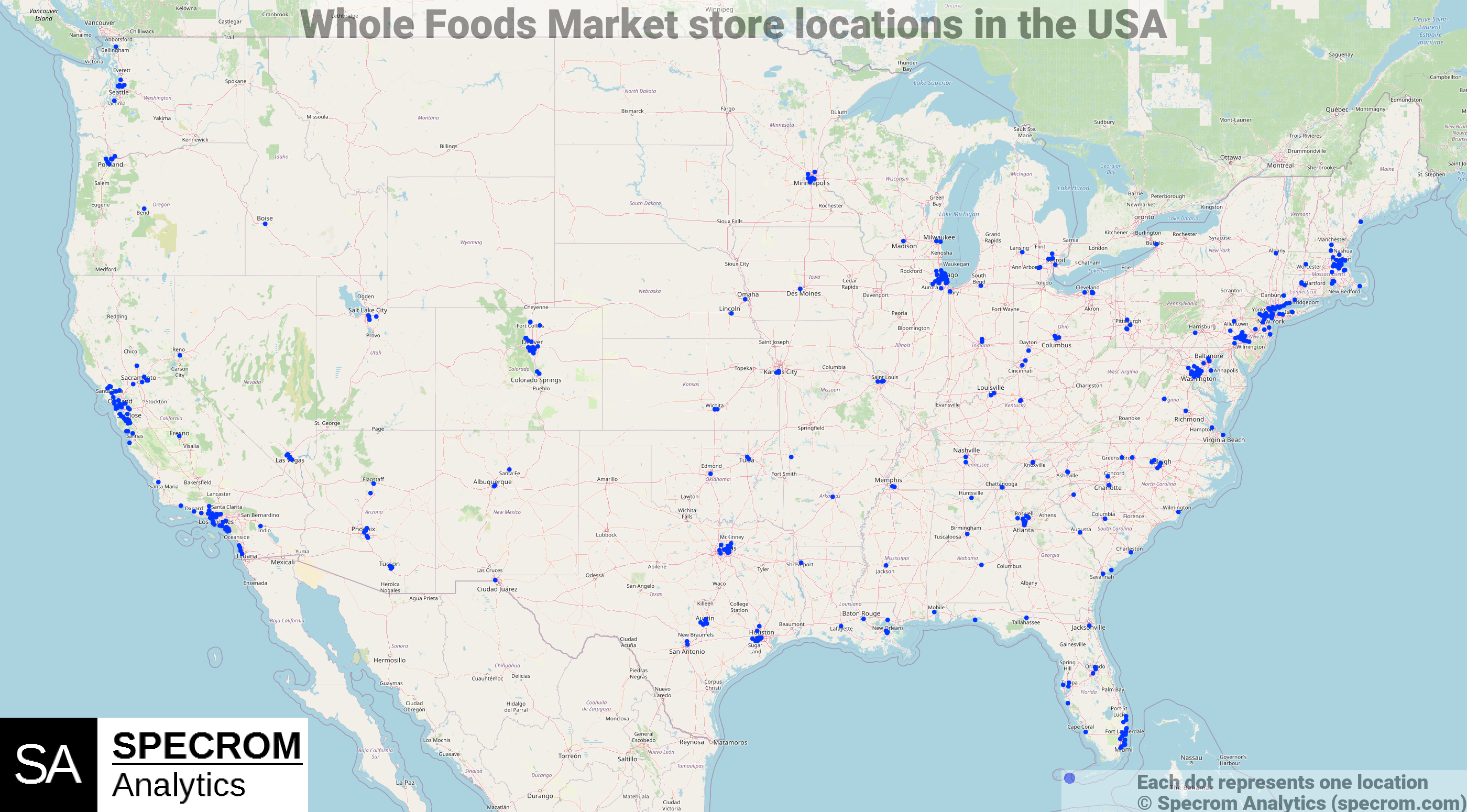 Source: Whole Foods Market store locations in the USA
Grocery stores (technically classified as "supermarkets")
A supermarket is a self-service shop offering a wide variety of food, beverages and household products, organized into sections. It is larger and has a wider selection than grocery stores of early 1900s, but is smaller and more limited in the range of merchandise than a hypermarket or big-box market.
In everyday U.S. usage, however, "grocery store" is a synonym for supermarket and is not used to refer to other types of stores that sell groceries.
Examples of this type include Kroger stores (including Fred Meyer, Harris Teeter, Ralphs), Publix, Albertsons etc.
Fresh format/organic stores
Different from traditional supermarkets and traditional natural food stores, fresh stores emphasize perishables and offer center-store assortments that differ from those of traditional retailers—especially in the areas of ethnic, natural,and organic, e.g., Whole Foods, The Fresh Market, and some independents.
Limited-assortment discount format
A low-priced value-for-money grocery store that offers a limited assortment of center-store and perishable items e.g., Aldi, Lidl, Trader Joe's, and Save-A-Lot.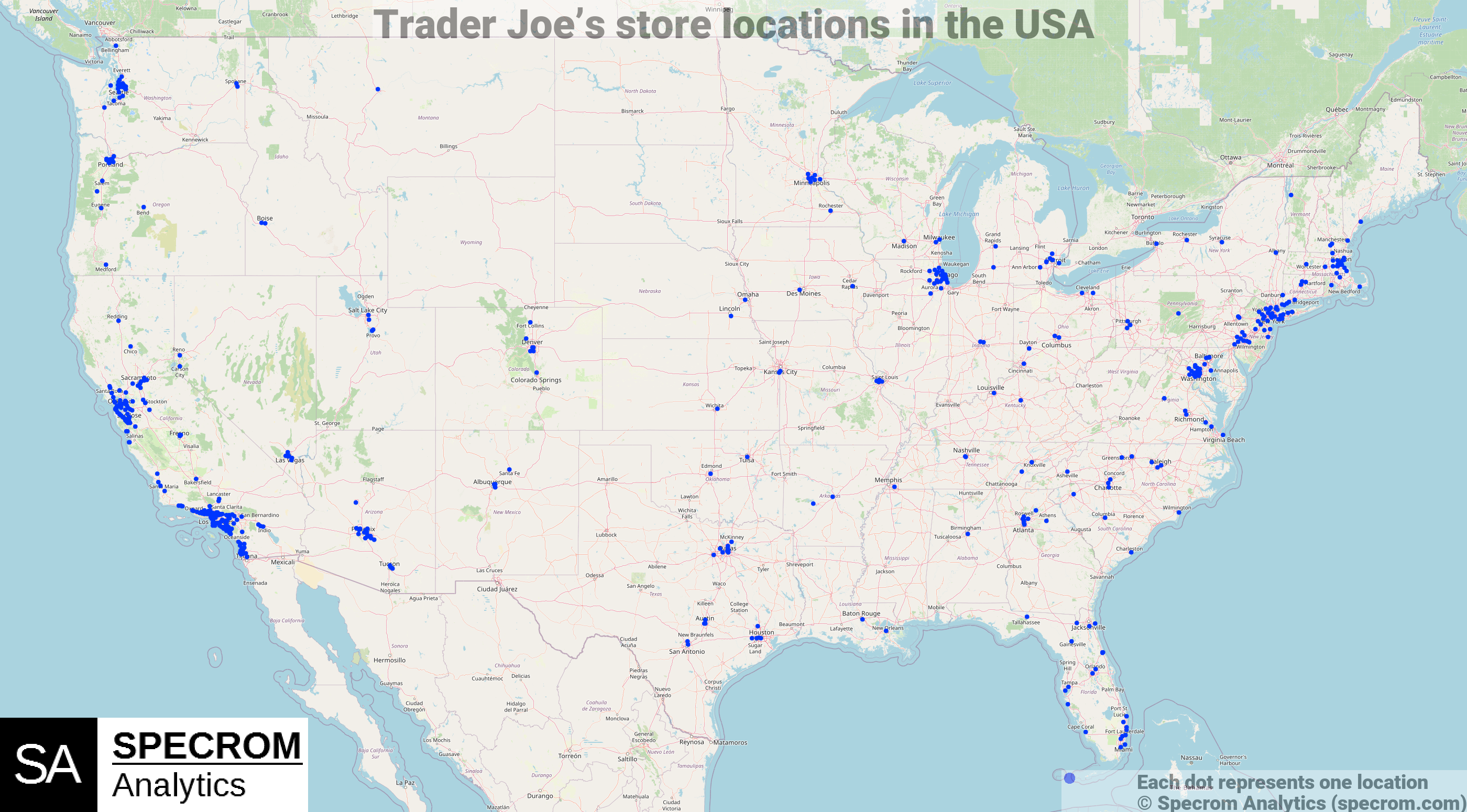 Source: Trader Joe's store locations in the USA
Convenience stores
These carry a limited selection of staples and other convenience goods. These to-go stores generate approximately $1 million in business annually, e.g. Seven-eleven, FamilyMart, Alfamart.
Drug Stores
A prescription-based drug store that generates 20% or more of its total sales from consumables, general merchandise, and seasonal items. This channel includes major chain drug stores such as Walgreens, DM, AS Watson and CVS.
Wholesale clubs
A membership retail/wholesale hybrid with a varied selection and limited variety of products presented in a warehouse-type environment.
These approximately 120,000 square-foot stores have 60% to 70% GM/HBC and a grocery line dedicated to large sizes and bulk sales.
Memberships include both business accounts and consumer groups, e.g., Sam's Club, Costco, and BJ's.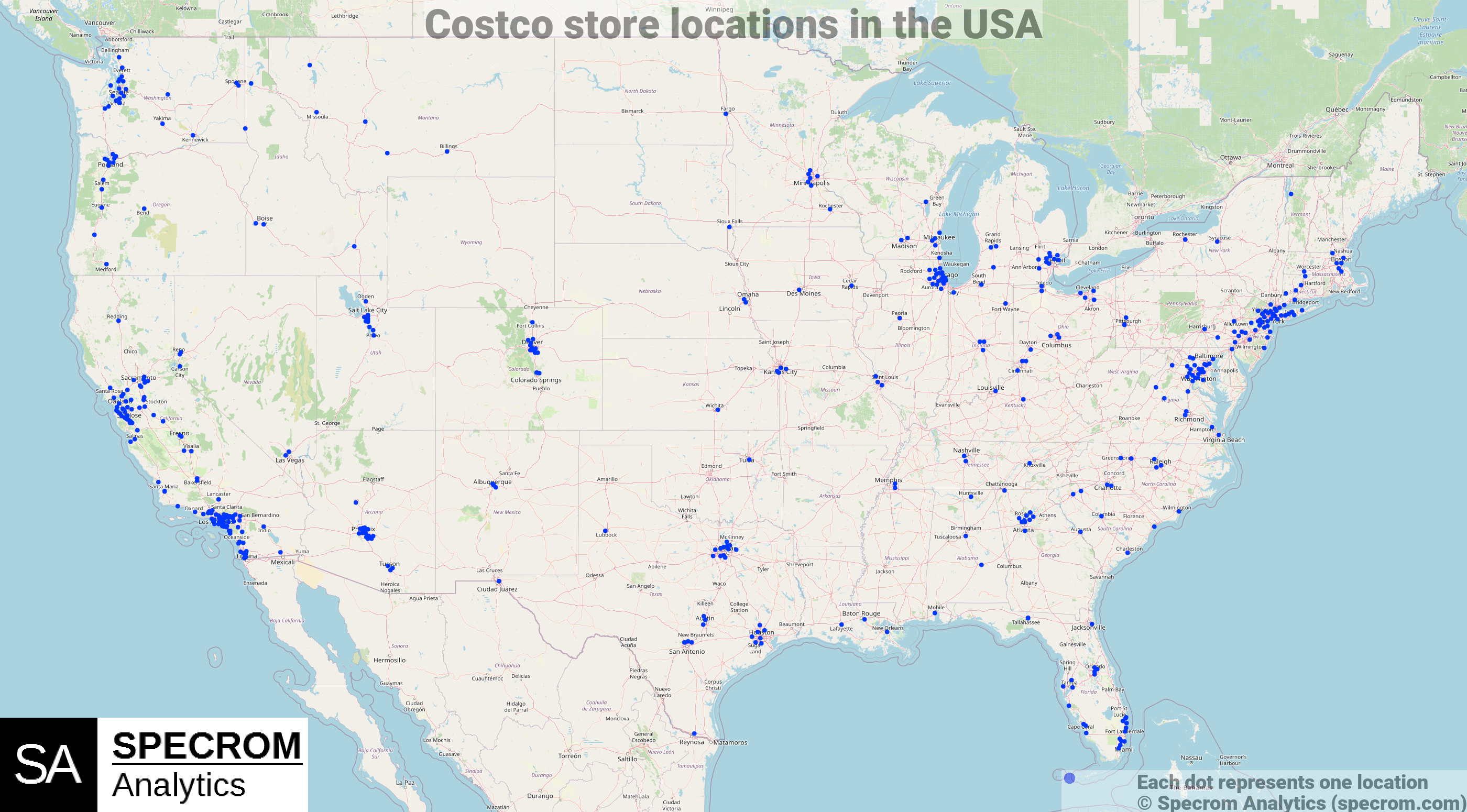 Source: Costco store locations in the USA
Hypermarkets, big-box stores, supercenters, superstores
These is a type of retail store that combines a department store and a grocery supermarket.
Often a very large establishment, hypermarkets offer a wide variety of products such as appliances, clothing, and groceries. Hypermarkets offer shoppers a one-stop shopping experience.
Americans commonly refer to these type of stores as supercenters, superstores etc.
Merchandise includes perishables, household items, hardware, toys, small electronics, clothing, toiletries, cosmetics, furnishings and furniture, and more.
They all boast of either being the cheapest or, at least, of offering the best value for money.
We can trace these type of stores to Fred Meyer store (now part of Kroger) that opened in Portland, Oregon, USA in 1931.
Meijer opened the first super center in Grand Rapids, Michigan in 1960s and now it has over 200 stores around mid-west.
This concept was quickly adopted by all discount chains such as Walmart, Target etc. and now supercenters are common retail format.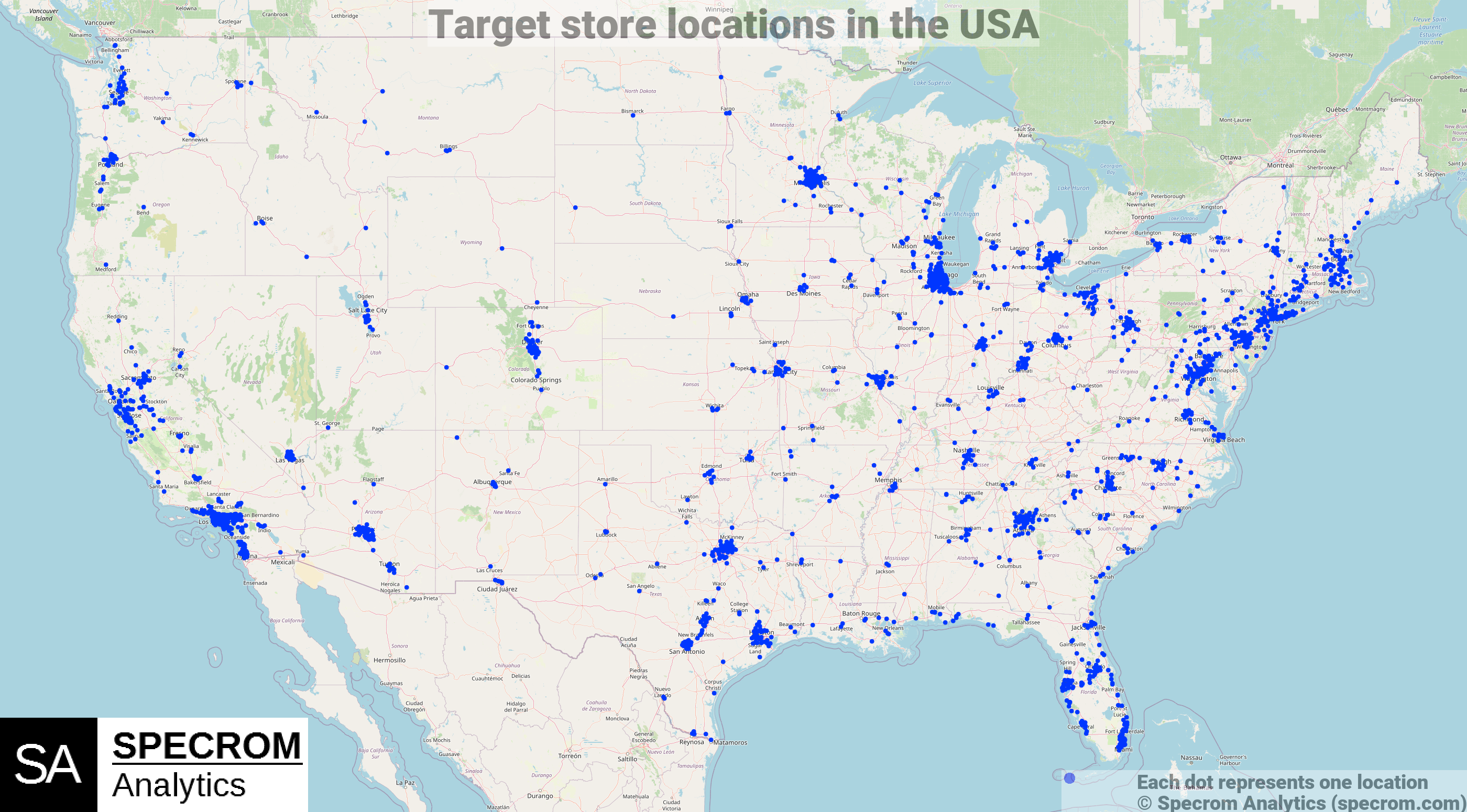 Source: Target store locations in the USA
The average Walmart Supercenter has 178,000 sq ft while a typical Carrefour hypermarket covers 110,000 sq ft. Most European and Asian hypermarkets are much smaller at 30,000-50,000 sq ft.
Discount stores
Discount stores are stores that sell local or regional brands at lower than market price points. They can have a wide mix of goods or concentrate on specific merchandise types. More often than not, they will buy season - end merchandise, job lots and/or secondary brands.
Target, Walmart, KMart all started out as discount stores but they transformed themselves into hypermarkets/supercenter format that we see today. The best examples of discount stores now are TJ Maxx, Marshalls, Ross even though a better description of these would be discount department stores.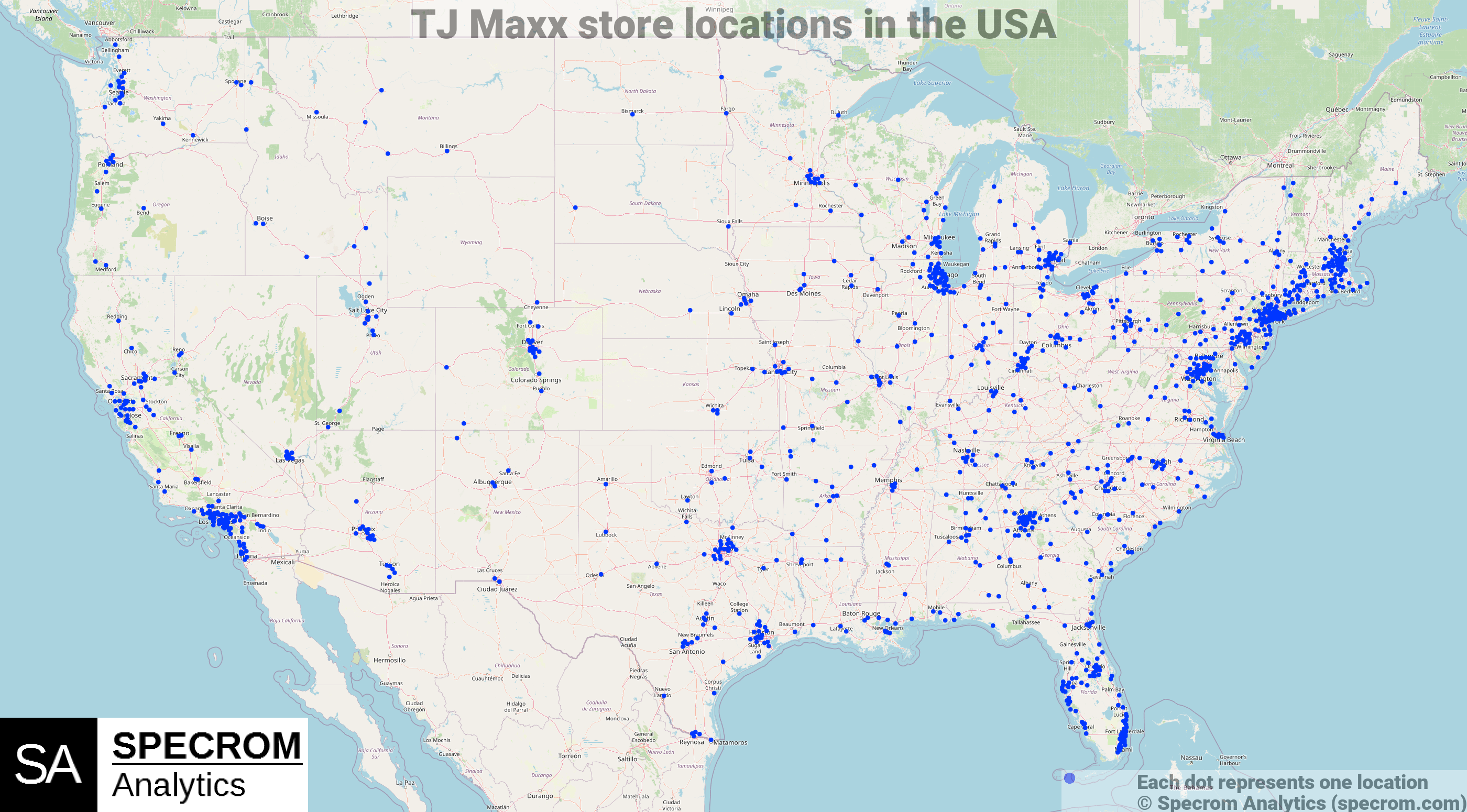 Source: TJ Maxx store locations in the USA
Merchants are required to hunt for deals regionally and buy in bulk to get the lowest price possible. Factory outlets have been developed by the brand owners to release their own discounted season-end goods. The benefit lies in the control of the retail price this gives and thus leads to better profits.
The major difference between hypermarkets or supercenters and discount stores is that most supercenters will infact tend to have higher mean prices, but use promotional tools more often and more widely than the discount stores.
Hypermarkets use promotional areas with strong signage that gives the impression that they are cheaper because they have the muscle to buy big and are thus able to offer bigger discounts.
The advantage supercenters have is in the depth and width of the products on offer, which make it practical for consumers to shop there.
A subcategory of discount stores are liquidation stores that buy merchandise at a very low cost from liquidation sales and pass on the price benefit to the consumer. Typical examples in this category is Big Lots and Ollie's Bargain Outlet.
Department stores
Department stores come in two types : those with a full-line designation , which carry a wide range of merchandise, from health and beauty to fashion/softgoods and accessories, to household and small electrical items/hardgoods and, occasionally, specialty gourmet foods; or those dedicated to specific brands or products.
Examples of department stores include Macy's, Dillard's, JC Penneys, Kohls, Belk etc.
Because the department store serves as "the umbrella" for a wide assortment of goods, it is deemed convenient for customers to shop there.
While some department stores may concentrate on specific merchandise types, such as apparel and accessories, in the majority of cases they, like other retailers, need to decide which customer profile they intend to pursue and buy accordingly.
The vulnerability of today's department stores is that they have a hard time competing with true branded stores (see below). There is no question that traditional department stores are in steep decline in US and the the major one still standing with over 1000 stores is Kohl's.

Source: Kohls store locations in the USA
Customers are becoming increasingly fussy, and without very good service and merchandise that can give them points of differentiation, department stores have lost their edge and market share.
To maintain customer loyalty, many stores have adopted store credit cards and created special card- member events with special offerings or discounts to reinforce loyalty and consumer spending.
The balancing act, though, is not to use such marketing tactics too often; otherwise, consumers can become blase with yet an other discounting event.
Branded stores
Branded stores are those that carry single known brands. These may be globally or nationally renowned brands such as Nike, Adidas, Esprit, Mango, Zara, Timberland, Levis', H&M ; or "high-end" brands such as Gucci, Prada, Fendi and Burberry.
These stores are either operated directly by the brand owners or through a franchise agreement. The merchandise, price points, store layout, store design, store locations and merchandise displays are usually strictly spelt out by the Master Licensee or brand owner.
Customer service is high and specialized. These stores are usually located in "choice" areas, streets or malls, with the stores designed specifIcally to encapsulate the mood of the brand.
Customer loyalty is linked to brand loyalty which, in turn, gives the consumers a sense of identity with the brand.
Branded stores lose their customers when they start losing their luster. These sunset brands in most cases, the brand has either lost touch with its customers, or the customers have graduated from them and moved on to other brands that are more in tune with their lifestyle.
Franchised stores
When the owners/developers of a concept or brand wish to expand the business into other territories or countries, they often adopt the franchising business model under which, for a fee, the franchisee is given the right to operate the retail concept in very specific locations (regions).
This retail operation is conducted under specific rules and regulations that have been set out by the owners (the franchisors).
Franchises are almost a norm in the fast-food industry- McDonald 's, Wendy's, Kentucky Fried Chicken (KFC), Popeye's but are also found in the fashion industry-Zara, Mango, Debenham's, Gap, Old Navy, Tommy Hilfiger and more.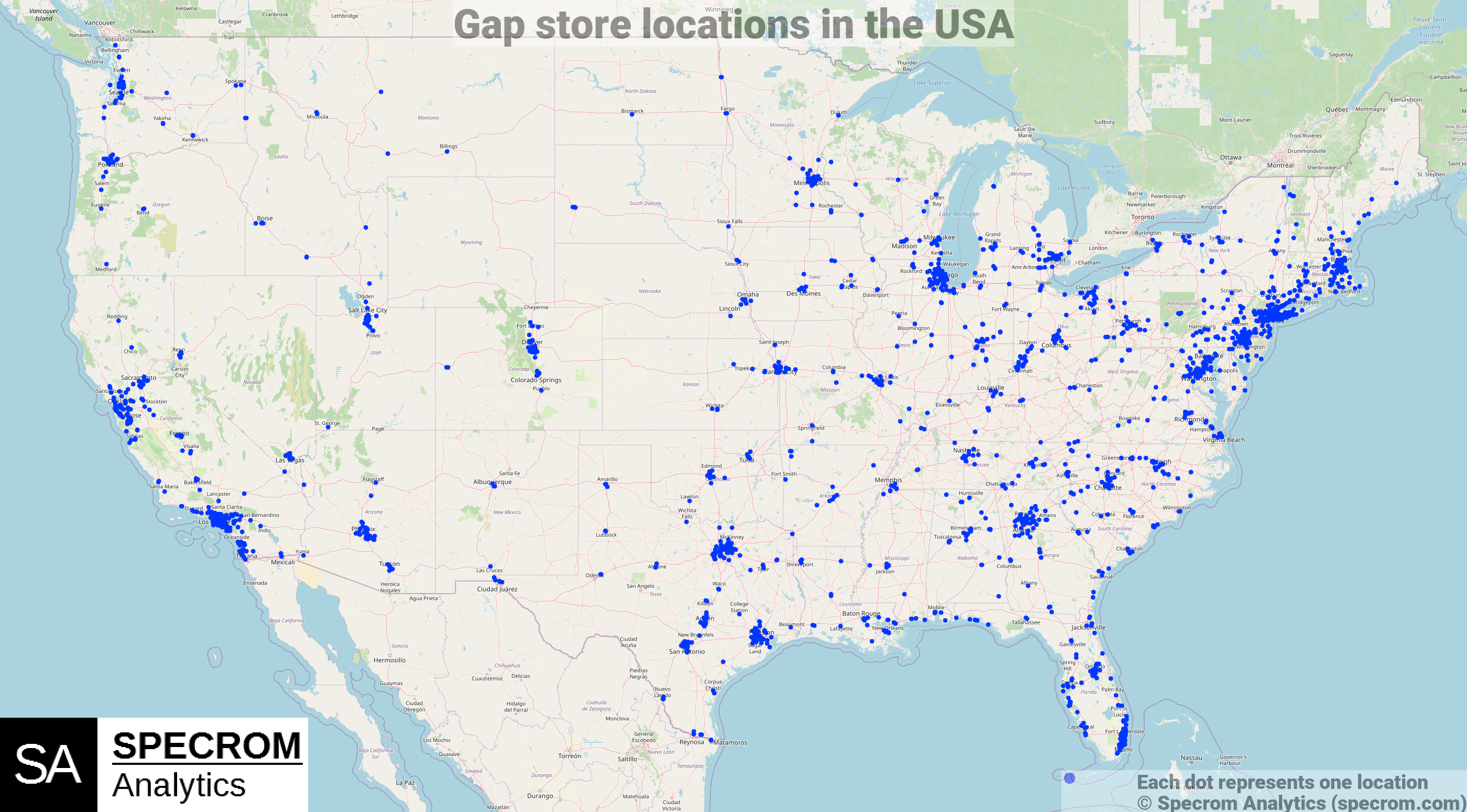 Source: Gap store locations in the USA
License stores
Licensing is similar to franchising, with the m a in difference being the start-up fee. Some of the best known of such arrangements include Benetton- the largest retail licenser in the world- Ralph Lauren, and Marks & Spencer.
Here the licensees are required to follow the merchandising philosophies established by the licensors, and the buyer's role is quite different from any other retailing format.
The merchandise sold is either produced completely by the licensee in which case the buyer needs to be able to do product development or purchased directly from the licensor (the original brand owner) by the licensee's buyer for distribution to the individual units.
Generally, individual stores have no buying responsibilities. Today, increasingly, licensors adopt a "push- model" under which the licensee gives the licensor an open-to-buy (OTB) budget (OTB being the difference between planned purchases and stock already ordered, or the value of merchandise that a buyer can order for a particular period), and the licensor selects all the merchandise to that value.
Under this business model the licensee does not require a buyer. Though convenient for the licensor, it is riskier for the licensee.
Ideally, it is best when the licensees have some say in the assortments they carry, as these would be bought with their particular customer profile in mind. Benetton, for example, has as many as several thousand styles each season, and the individual licensees have the right to buy or select what they deem best for their stores.
Specialty stores
Specialty stores are, as the name suggests, stores that specialize in specific types of merchandise, with a specific lifestyle offering.
These can vary from luxury goods to mid-priced high-quality goods. Examples include:
Sports shops such as Dick's, Academy sports, Cabela's Bass Pro shops
Bed, Bath and Beyond
Electronics store such as Best Buy

Arts & Crafts such as Micheals, Hobby lobby, party city

Home improvement such as Lowe's, Home Depot, Ace

Pet stores such as Petco, Petsmart

Telecoms shops such as Verizon and At&T stores

Book stores such as Barnes and Noble

Footwear stores such as Footlocker, lady Footlocker, Kids footlocker, Champs, Eastbay, Hibbett

branded cosmetics and personal care such as Ulta beauty,Sephora, Sally's beauty etc.

dive shops
antique shops,
oriental carpet shops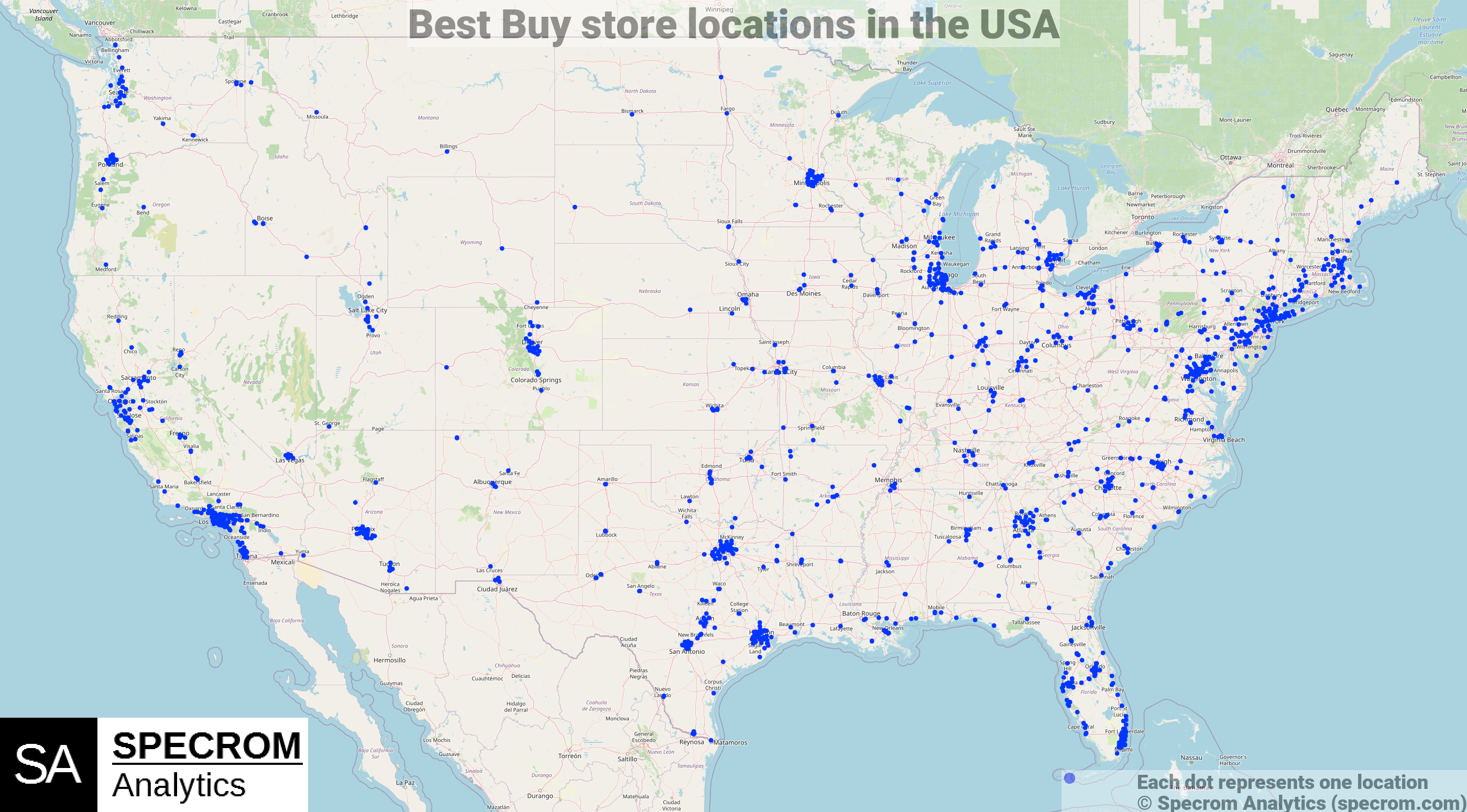 Source: Best Buy store locations in the USA
Customers shop these stores as a destination shopping trip. The expectation is that they must have a wide choice of merchandise within their respective specialist categories and very knowledgeable staff who can recommend the right items.
The specialist stores are vulnerable to competition from general merchandising retailers who may opt to have some specialist sections for which they are sometimes able to buy in bulk and sell these items quite cheap ly, creating price mayhem with point-of-no-return price levels (the point at which an item has been discounted so often that it can no longer command its original price).
For example, pashmina shawls used to retail at $ 500 when they first came on the market. Big retailers then bought these in bulk and sold them at $300; other retailers discounted them further to $200, and today they can be as low as $150.
In such circumstances, they can no longer command their original value of $500: the price has gone down to a point of no return.
Specialty stores are compelled to know a great deal about their customers and their individual requirements. There is usually a great deal of customer follow-up and special purchases on customers' behalf.
Variety stores, dollar stores
The best examples of variety stores today are Dollar General, Dollar Tree, Five and Below and numerous independent dollar stores.
These types of stores have seen a strong resurgence in recent years and while Dollar General and erstwhile Family Dollar stores have penetrated deep into rural America, they have also made inroads into low income neighborhoods, making some accuse it of giving rise to Food deserts.
They have received numerous press coverage in recent years, but safe to say that they are solving a real need into the communities with low access to traditional big box retailers and that need has grown these chains such as Dollar general to over 14,000 locations in USA.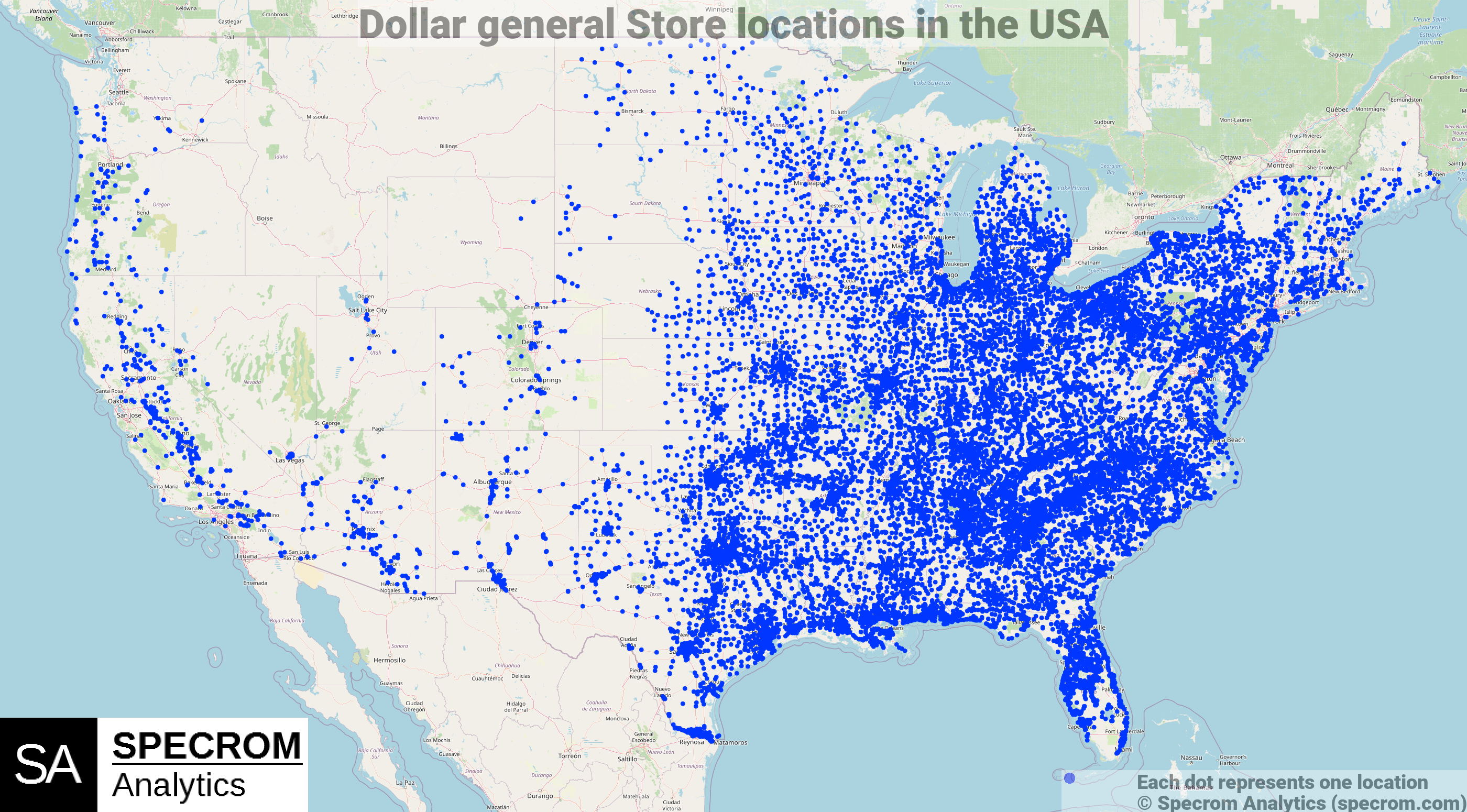 However, not all types of variety stores are targeting poorer sections of the society. Some like Five and below are in fact targeting the impulse shoppers and their in store experience of loud music and merchandise aimed at teens and tweens have fueled their growth into over 900 stores.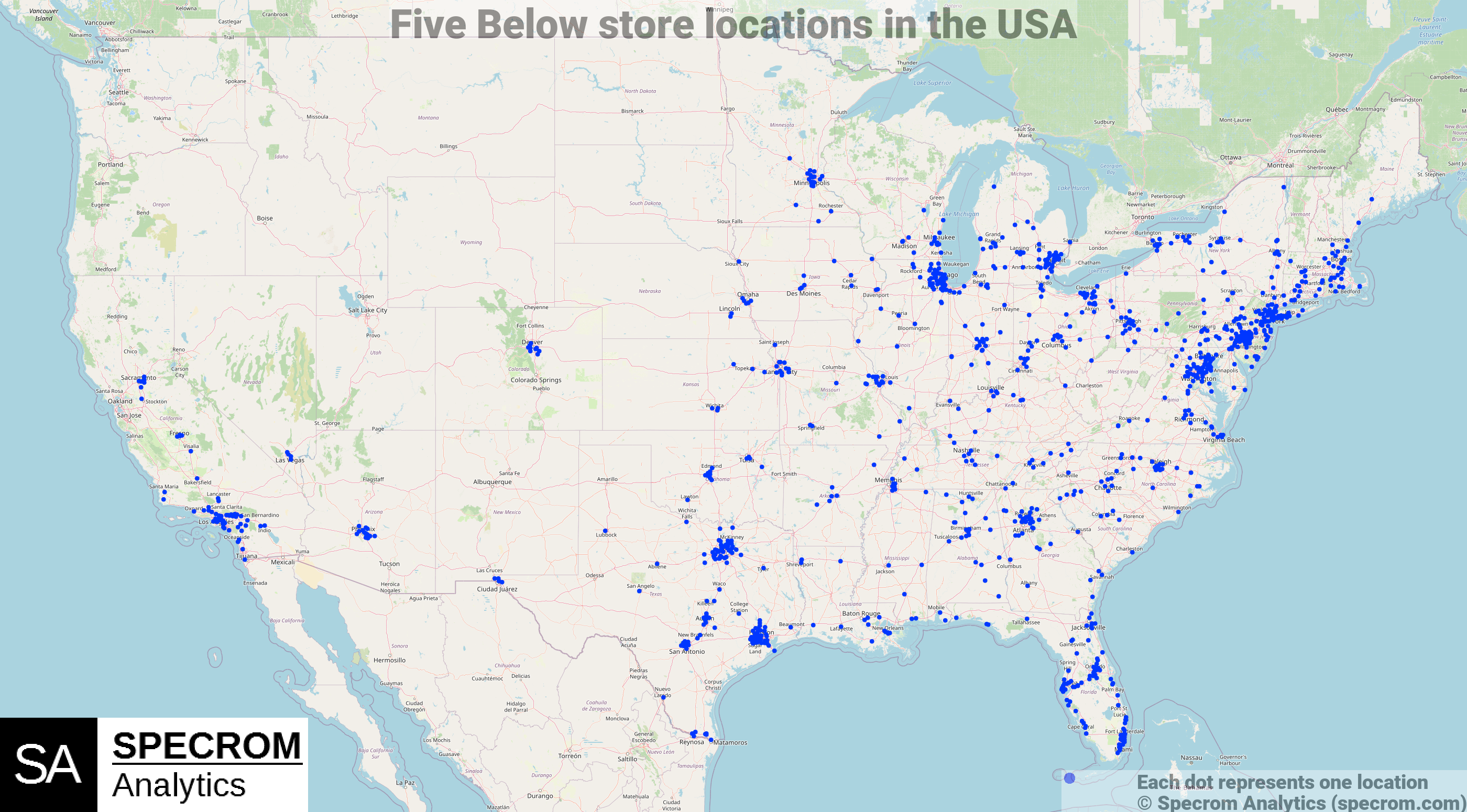 Source: Five and Below store locations in USA
Single-unit independent stores or "Mom-and-pop" stores
This trend is still big business in retailing since thanks in part to shoppers seeking unique services or products.
There are still many entrepreneurs who wish to be their own boss.
Many of them are very successful, as they are able to cater very specifically to their customers' needs and give them personalized services.
The merchandise, similar to that in specialty stores, is usually limited in choice but appealing nevertheless.
The "boutiques" can carry ranges of shoes, jewelry or apparel, which are usually higher priced goods and sometimes custom-made.
Initially, the owners themselves usually act as the buyers but, as the business grows, they may expand this role to incorporate hired professional buyers.
I am a huge fan of my hometown's best known independent store called Shaia's located in Birmingham, Alabama. It's such an iconic institution that it has made its way into Architectural Digest's most beautiful independent stores in America.