We know that becoming a franchise owner is one of the top ways of becoming a successful business owner in America. The main reasons why anyone buys a franchise are:
Proven business format

Standardized method of operation

National advertising

Franchise brand name recognition

Franchisee training

Franchisee network

Standardized fixtures and equipment

Professional site location assistance

Centralized buying

Quality control standards

Traditional franchising
In this case, the franchisee is typically selling products manufactured by the franchisor. This is one of the earliest types of franchising and was seen in automotive dealership, gas stations etc.
Currently, you will see traditional franchising in soft drinks, automobiles and trucks, mobile homes, automobile accessories, and gasoline. Some examples include Coca-Cola, Ford Motor Company, and John Deere.
Although traditional franchises look a lot like supplier-dealer relationships, the difference is in the degree of the relationship.
In a traditional franchise, the franchisee may handle the franchisor's products on an exclusive or semi-exclusive basis, while the supplier-dealer may handle several products, even competing ones.
For example, Tempur-Pedic mattresses may be offered by a national dealer network that also offers other bedding brands in their retail stores.
The traditional franchisee is closely associated with the franchisor's brand and generally receives more services from its franchisor than a dealer would from its supplier.
Frequently the franchisee provides some pre-sale preparation before a product is sold (such as you find with Coca-Cola, where the franchisee manufacturers and bottles the soda) or some additional post-sale servicing (such as you find at a Ford dealer with your periodic maintenance programs).
In a traditional product-distribution franchise, the franchisor licenses its trademark and logo to its franchisees, but it typically does not provide franchisees with an entire system for running their businesses.
Business-format franchising
The business-format franchisee gets a complete system for delivering a franchisor's product or service.
This model was first seen in 1950s with the now defunct Howard Johnson's diners had over 1000 restaurants in 1960s and 1970s, the the brand had staled and now only have a couple left. The other popular one was Mcdonald's which was successfully franchised by Ray Kroc and now bosts over 10,000 locations.
The major difference between a traditional franchise and a business-format franchise is that business-format franchisees operate their business based on a business system largely prescribed by the franchisor.
The role of the franchisor is to define the business system and establish the brand standards, whereas the role of the franchisee is to independently manage their business on a day-to-day basis to achieve those brand standards.
McDonald's doesn't franchise hamburgers, Domino's doesn't franchise pizza and Popeye's doesn't have any intellectual property (IP) on fried chicken; inspite of that these have risen to thousands of store locations in USA.
Lot of popular brands such as Mcdonalds and Domino's have hit saturation point in USA with presence in almost all economically viable local markets. However, Brands like Popeye's still have a room to grow their American presence, and hence they have have it to #4 on Entrepreneur magazine's top 500 franchise.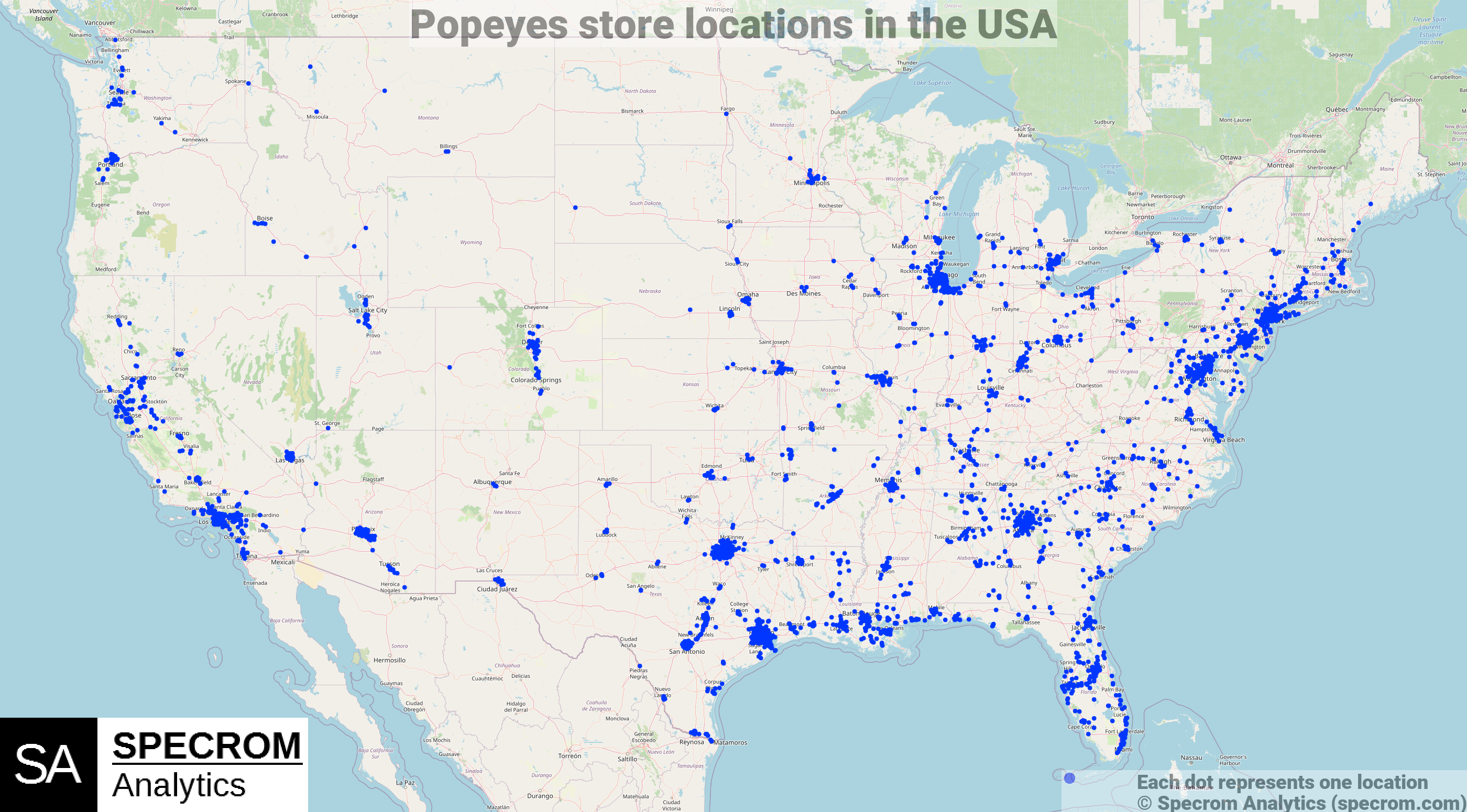 Source: location list for Popeye's stores
What they provide to their franchisees is a system of delivering their branded products and services.
Although traditional franchising is larger than business-format franchising, because the size of the individual transactions is larger, more than 80 percent of all franchise locations in the United States are the business-format type.
It is the franchisee's execution to a franchisor's brand standards that produces consistency — the foundation for a business franchisee's success.
The business-format franchisor provides a detailed system, and the franchisee is trained and supported in their independent management of their business.
The confidential operating and procedures manuals (the how-to guides of every great franchise) provide the franchisee with the information they will need to establish, operate, and manage their businesses.
The goal in a franchise system is for customers to get the same brand experience each and every time they shop in one of the franchise's locations, and the manual is one of the tools to achieve that important goal.
Although the franchisor provides a comprehensive business system, it is the franchisee's responsibility to manage all the day-to-day affairs of the business. After all, the franchisee is an independent business owner simply operating under a license.
Franchisors may specify uniforms and other brand standards related to how a franchisee's staff looks (think tattoos, beards, piercing, cleanliness), franchisors don't generally provide any other human resource requirements.
Who a franchisee hires, how much they are paid, what benefits they receive, which hours they work, and how they are promoted and disciplined are all the sole responsibility of the franchisee.
Because human resources are the sole and exclusive responsibility of the franchisee and not the franchisor, franchisors and franchisee are generally not considered joint-employers and are not liable for each other's actions or inactions.
Roles of Franchisors and Franchisees
The franchisor and franchisee are in distinctly different businesses, they merely share a brand. In a franchise, the franchisor licenses to the franchisee an operating system, and the franchisee provides the products and services to consumers.
As a licensor, the business of a franchisor is to develop, license, support, and expand an indirect system of distribution of its branded products and services.
As required under the law, it is the franchisor's responsibility to establish brand standards and enforce how the franchisee meets those brand standards sufficient to protect consumers.
In contrast, the business of a franchisee is to independently manage and operate their business to the brand standards established by the franchisor.
Federal Trade Commision (FTC) requires a franchisee to meet the quality standards of the franchisor.
In addition, a franchisor must exert, or have the authority to exert, a significant degree of control over the franchisee's business operation.
Finally, the franchisor is required to give significant assistance to the franchisee before the relationship is considered a franchise.
There are also additional state based rules that regulate the role of franchisor and franchisees, most states either follow some variations of the California franchise requirements or Community of Interest Approach first established by statues in Minnesota.
Either way, make sure you completely understand your franchise agreement and get it checked by an experienced franchise lawyer to ensure you have a good understand of roles of franchisee (aka you) and the type of support you can expect from the franchisor organization.
What do you own by being a Franchisee?
When you invest in a franchise, you are not buying a franchise. You can't because all the franchisor is providing to you is a license allowing you to use its brand name and methods to operate your business, and you only get those rights for a specified period of time.
As a franchisee, you own the physical assets of your business: the land, building, equipment, and so forth. You are not buying the franchisor's brand or systems, and in some franchise system, the franchisor may even retain the right to purchase your assets when the franchise relationship ends.
Franchisors don't always provide their franchisees with a defined area around their location in which no other company-owned or franchisee-owned business are allowed to operate.
Many do, but even then the market area provided may not be an exclusive territory and may only be a protected territory. An exclusive or protected territory may be defined by the following:
The radius or area around the franchisee's location

The number of households or businesses in an area

The number of people who live in an area

Zip codes

Counties

Metes and bounds using highways, streets, or other geographic measures

From the franchisor's perspective, if the territory is too large, the total market will not contain enough locations to achieve brand recognition. From the franchisee's perspective if it is too small or if other locations are too close, there may not be enough customers to support the business.
The goal for franchisors when granting any type of territorial protection is to ensure that they have the right to develop sufficient locations in an area to achieve brand penetration — the number of locations in an area sufficient to service the market and to ensure that consumers see the brand frequently.
Almost all franchisee agreements are time bound, so even if you are granted exclusivity over a region, its term is limited to what is specified in your contract.
Sometimes, especially for international locations, a franchisor might sell something known as a master franchise for a particular territory. This lets you sub-francise it to others in that region.
In effect, you become a franchisor of that brand for that particular area in addition to owning corporate stores in those locations.
Are franchisees entrepreneurs?
Well yes and no, depending on who you ask. In my mind, they definitely are since they are financially responsible for their own success, and there is no employer employee relationship between franchisee and franchisors.
You may often hear franchisees referred to as entrepreneurs, and franchisees may view themselves as entrepreneurs. But franchisees are not true entrepreneurs because if they were they would naturally want to make all the decisions about how the franchise system should operate and would want to break free from the constraints that franchise systems impose on them.
Successful franchisees are "formula entrepreneurs" willing and able to invest in a system and follow the system's direction.
To achieve consistency a franchisor has to make decisions about how the business operates globally. Franchisees may think that they have the next great idea, and often they do, but the franchisor must look at those great (and sometimes not-so-great) ideas and make system-wide decisions.
For franchisees who are true entrepreneurs, the restrictions of a franchise system can be overwhelming and may even make the franchisor appear like a dictator. This can lead to disputes and disruptions in the franchise relationship.