Franchise based small businesses are everywhere in USA and there is a reason for it; year after year, we have seen through federal and state level statistics that a franchise based small business has a higher chance of staying in business beyond first three years than an independent small business.
So right off the bat, one of the simplest reasons why someone should buy a francise is to increase the odds of becoming successful small business owner in their favor.
Let us look into all the factors of what makes a franchise model so successful.
Lack of previous work experience or lack of time
You may not have all the necassary work experience to equip you to become a small business owner in a particular niche and becoming a francisee may help you complement some of these shortcomings.
For example, you may have experience in the restaurant industry, but have zero experience running a fast casual Mexican restaurant. In that case, you can either spend considerable time to get up to speed in all the recent consumer trends, develop a detailed business plan, design your own menu, figure out the suppliers etc.
Instead of spending time doing that, you can join one of over 600 store locations of Moe's southwest grille predominantly on east coast or you can join Qdoba if that has more presence in your state.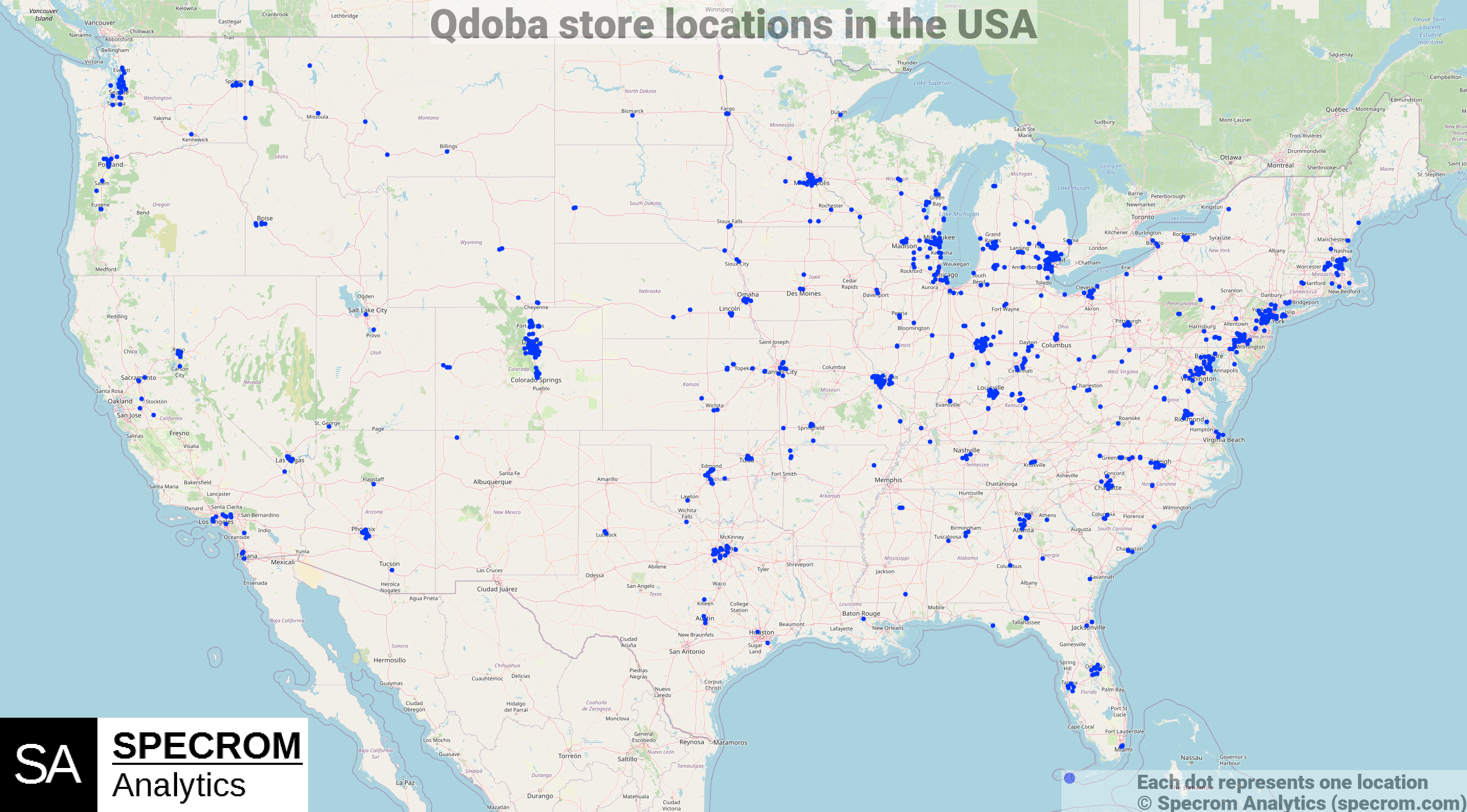 Source: location list for Qdoba stores
Well defined and proven business format
Most francises are selling defined and proven business format or method of operation.
No one can say that Moe's, Chipotle, or Qdoba invented the burrito, all they did was build a concept and scale it into a proven business model replicable across the country and indeed across the world when you consider Mcdonalds, Dunkin donuts etc.
Typically, simpler the idea, the better the franchise. That allows for standardization of the presentation of their products and the services that went along with them. This is the essence of a proven format in the world of franchising and at the top of the list of reasons for franchising's success.
Almost all franchises we see today started out as a one location independent business that was refined, grown to multi locations of corporate owned stores that demonstrated that it could be successful.
A defined format is what is passed on to franchisees and strictly enforced. It is what creates a positive public image and identification.
It is the prime building block of a successful franchise. Today, while many systems still have grass root beginnings, franchise-making has become big business.
Specialization
Another reason franchising has found such a solid niche in our modern economy is that it caters to specialized needs.
Many American consumers will rather go to a Mcdonalds, Wendy's, Burger king to eat a hamburger, or IHOP for pancakes whereas the same need was met by your local diner few decades ago.
Specialists, it seems, do it better and the franchise industry is only too willing to accommodate this belief.
While the early foundations of franchising were built upon standardization, the success of modern franchising depends on finding ways to meet the ever-changing needs of affluent consumers.
Franchising organizations capitalize on this era of specialization by expanding through sales to independent parties (who become franchisees) rather than by investing their own money.
The capital saved is used by franchisors to develop new and better ways to serve consumers' specialized needs.
Specialization helps franchisees because it creates new marketing niches for franchises to pursue.
Offering products and services to those niche customers works for the common good of all in the system.
The ongoing trend towards specialization will lead to the creation of new franchises and keep franchising at the forefront of business distribution methods.
Uniformity across locations
Consumers receive uniform quality — efficiently and cost effectively through uniform systems of operation. A uniform system brings with it the advantages of:
a proven format and a mass purchasing power

brand identification

customer loyalty


Uniformity benefits franchisees because customers can purchase pizza from any Domino's store and be certain the pizza will taste exactly like the Domino's pizza with which they are familiar.
This means that individual franchisees need not build up their own good will. Uniformity also benefits the franchisor.
It ensures the brand name will continue to attract and hold customers, increasing franchise fees and royalties.
franchise systems utilize uniform systems to provide uniform products and services that attracts loyal, repeat customers anywhere in the country (or world).
Advertising
franchise advertising brings the advantage of strength in numbers.
A local mexican restaurant cannot afford huge advertising budget to get its name out however, a franchisee of Moe's doesnt have to worry about it since it can take advantage of national and regional advertising (which is exorbitantly expensive).
Franchisees also benefit from the creative talent that large corporations draw upon to effectively market their products and services.
On the other hand, franchisors benefit because they can consolidate their advertising efforts and fund expensive advertising campaigns with the financial help of their franchisees.
Both the national and regional success of a franchise depends largely upon the franchisor's ability to develop name recognition and product or format acceptability.
Local, regional, and national advertising instills in consumers the confidence that they can go across the country and find—in a franchise outlet—the same quality as they would in their own neighborhood. Advertising networks, therefore, are a vital part of every franchise system.
Brand name recognition
Another benefit that potential franchisees can expect is to be identified with the franchisor's name.
By delivering a quality service or product (a proven format) and with the help of advertising, franchisors achieve name recognition with the public.
This recognition is one of the intangibles that franchisors offer franchisees.
As the franchise matures and name recognition increases, this intangible benefit becomes more valuable.
Franchisors often charge new franchisees a higher fee for the privilege of operating under the established franchise name.
With a successful franchisor, product or service recognition confers an image of quality, integrity, and trust.
Therefore, in addition to obtaining a product or service to sell the public that is presented in a proven format, franchisees also gain instant integrity and recognition.
This is one of the reasons franchised businesses seem to enjoy a better track record of success than their nonfranchised counterparts.
Clearly, with the right franchise system, the new business owner is off to a much better start.
Support from other franchisees
For franchisees, especially new ones, the franchise network or family of franchisees is an invaluable resource for information and business experience.
Because all are working toward a common goal, keen new franchisees can draw freely upon the available knowledge base offered within a franchise structure.
Before joining a franchise system, consult with some of its franchisees for valuable inside information.
As new business issues arise, new solutions are reached collectively and every franchisee benefits. Wise franchisors also draw upon this ready resource.
Many improvements to franchise systems have resulted from accepting new ideas and suggestions from their family of franchisees.
The entire system benefits from the collective knowledge, experiences, and mistakes of existing franchisees.
This is one of the most valuable and underrated benefits of joining a franchise system.
Training
Because reproducing the franchisor's format is so important to the ultimate success of the entire network, many franchisors have strict training requirements.
New franchisees are required to attend franchising universities.
Some franchisors use a combination of classroom and on-site training to indoctrinate franchisees in the ways of their systems.
This training instills the proven format or methodology in each of its franchisees and gives them some of the knowledge and experience they need.
Sharing a proven format with others, so they can replicate it, lies at the heart of franchising.
The training that normally accompanies the sale of a franchise allows people, otherwise inexperienced in the operation of the franchisor's business, to successfully offer the same quality service or product in a uniform manner.
Buying and logistics management
Cooperative buying arrangements are offered by many franchisor (or franchisee groups) and these are an important benefit of joining a franchise system.
Because some systems use vast amounts of raw materials or ancillary services, volume discounts as well as customized service can be negotiated with vendors.
In some industries these discounts or specialized services provide the competitive edge necessary for success.
Many franchise systems are also able to help new franchisees with discounts on the initial fixtures and equipment needed to start the business.
Lastly, you also get ample support from the corporate hq in putting in software systems in place for logistics and inventory management, point-of-sale systems etc.