Choosing the right franchise for yourself
There are thousands of franchise opportunities in almost all sectors of the economy so its pretty daunting to try and choose the right franchise for yourself.
Before opening any business you need to thoroughly research not only the business category you are trying to enter, but also look at potential locations where you would like to set up your presence.
We will go through some of the resources you should use to make an educated decision that can affect your future in a big way since no matter what anyone tells you, becoming a small business owner by getting a franchise will be a major life event, and you need to be as prepared as you can be before you commit significant finances and years of your life into this.
The Franchise Handbook
This is a quarterly publication published by Enterprise Magazines, Inc., that's distributed through newsstands nationwide. www.franchisehandbook.com.
International Franchise Association
International Franchise Association (IFA) is the oldest and largest of the franchise trade association.
This is a primarily an association of franchise companies, however, in past decade or so, IFA has become a great and balanced resource for a large number of franchisees.
It is forging a reputation as a moderating voice in the sometimes contentious relationship between franchisors and franchisees.
IFA publishes the Franchise Opportunities Guide, the official directory that contains thousands of franchise opportunities are profiled in each issue of this magazine, which is published semi-annually. More info at www.franchise.org
Entrepreneur Magazine's Franchise 500
The publisher of Entrepreneur magazine also contains an online database profiling the top 500 franchises in the United States. go to https://www.entrepreneur.com/franchise500 for more information.
Entrepreneur Magazine's Ultimate Book of Franchises
The Publishers of Entrepreneur magazine publish this soft-cover directory describing over 1,000 franchise opportunities. It's available on Amazon and all major bookstores.
Franchisee Associations
There are tons of educational resources available for franchisees at American Association of Franchisees and Dealers (https://www.aafd.org/) and American Franchisee Association (http://www.franchisee.org/).
Perform your own store location research
Almost all franchised chains have a store locator section on their website such as Arby's store locations where they list addresses, phone numbers, and business hours of all their store locations in USA. You can just Google the name of the Franchise + "store locations" to find this page.
We have seen that frequently, the store counts mentioned in advertising, promotional and other catalogs do not match the store locations found from their website.
For example, in the case of Arby's, total store locations mentioned on franchise page and elsewhere is close to 3500 stores, with 100 company owned, and rest owned by franchisees. However, when we buy the data extracted through the store locations page we get 3-5% lower number of stores.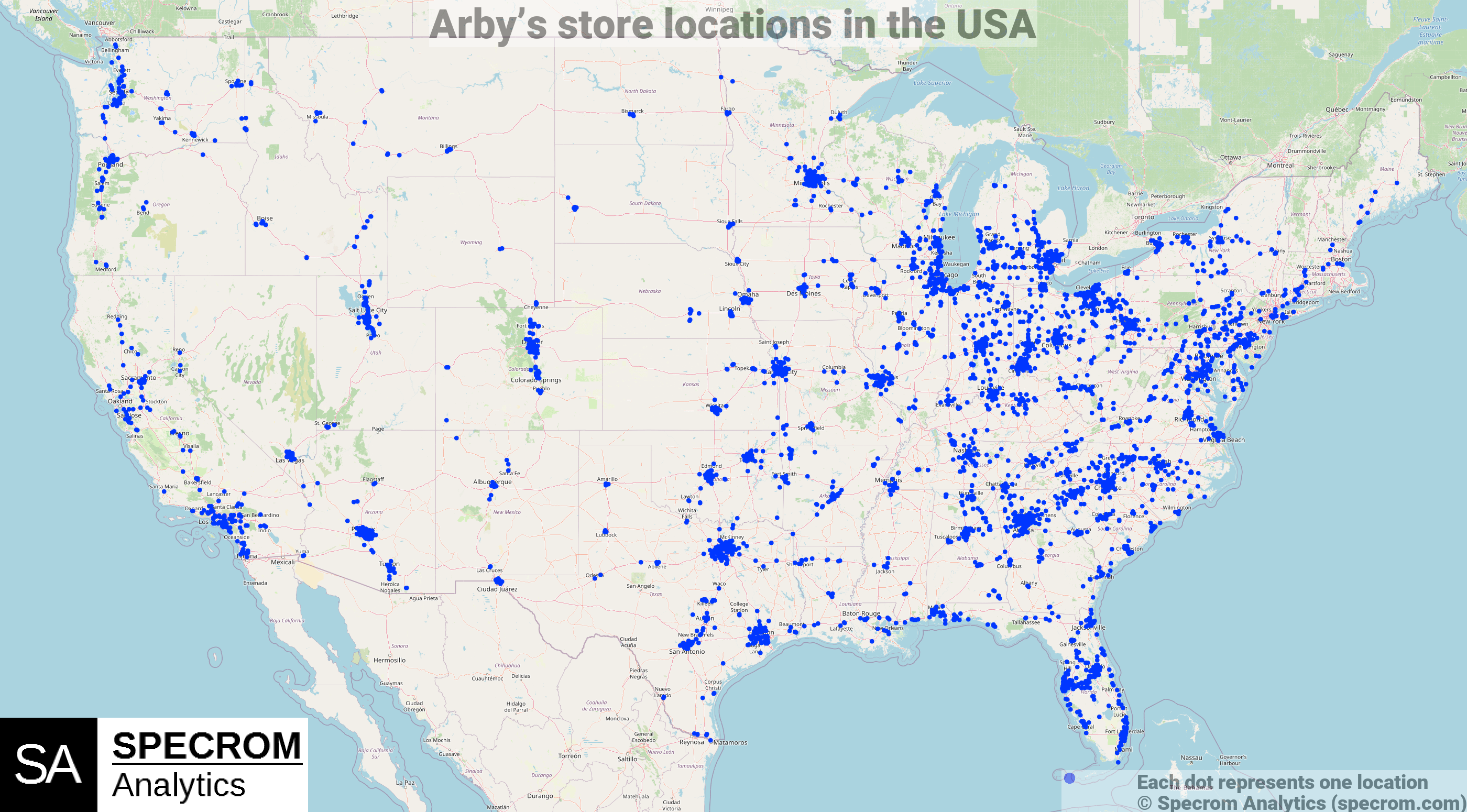 Source: location list for Arby's stores
In any case, the counts obtained through the store locator section of the site is to be considered more authoritative and recent compared to anywhere else. This is due to the simple reason that store locators are designed to be used by consumers, so any company would want to show the actual open locations to help the customers reach their store doors.
If there is a small discrepancy than that can be attributed to some stores getting remodeled and thus closed for public but large discrepancies usually mean that lots of franchisees have gone out of business and closed the stores.
You should hire a professional web scraping company or a data seller like us to get all the retail store location data for a particular franchisee.
It should only cost you $50-85 to get all the locations in excel file, and this is money well spent since it will not only give you store locations data but also phone numbers so that you can do some due diligence about which stores are corporate locations (by just calling and asking each stores), as well as try and speak with some franchisees.
Small Business Administration (SBA)
If you are in US, than you should contact the local Small Business Administration (SBA) office.
It has lots of dedicated resources for franchising, offering assistance with loans and general information on franchising. To find the SBA office near you and for other valuable information, go to www.sba.gov and just click on the map.
State Offices
Many state governments have put out detailed information through the State Securities Administrator or the Attorney General that lists all the franchisor companies registered with the state.
You can also use FOIA requests to obtain disclose publicly-filed actions taken against franchisors.
If you have a specific question than definitely make the effort to contact these officials to inquire about any actions taken against a franchise company that interests you. You should go through your local elected officials and get the information through their offices if you are getting stonewalled by the officials.
Other Franchisees
One of the best ways to learn about any franchisors is looking at performance, the geographical coverage and average duration of the current franchisees.
You will be surprised at how candid many franchisees are with other prospective franchisees. After all, they have a vested interest in ensuring that only people that fit well within the system join up; since an unsuccessful franchisee negatively reflects the entire system, and can erode brand equity.
Assuming that most people would like to own a business in their own community, talking with local franchisees would be the logical place to start when seeking a realistic appraisal.
Discussing the system with someone already familiar with it should provide invaluable information.
Trade shows and newspaper ads
Many people have found their dream franchises by looking at business opportunity section of your local newspaper or attending a franchise trade show.
I have to caution you about this though. Many franchisors enhance their ads with exaggerated claims, while trade shows can be over-hyped, emotionally-charged atmospheres.
The FTC has recently taken action directly against trade show promoters for failing to properly screen and supervise franchise and business opportunity participants.
Newspapers and trade show promoters do not ensure that the ads or information being distributed are factual. So, especially if this is your initial exposure to franchising, you need to backup all information with hard facts before making any purchasing decision.